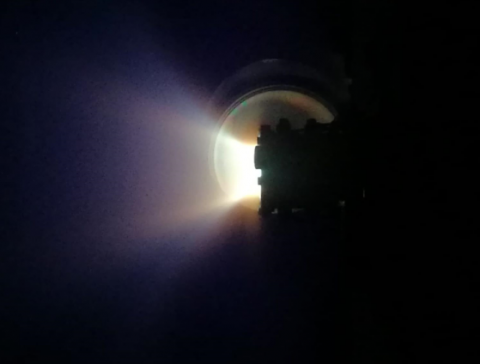 The iFACT team of researchers is excited to announce that we have successfully reached the important 1000 hours milestone of continuous operation of the iodine Fed Advanced Cusp Field Thruster (iFACT).
Multiple kilograms of iodine have been fed through the thruster already. Thus, we are on track to finally provide experimental evidence that the Airbus thruster technology meets the performance and efficiency needs without presenting performance degradation over several thousand hours of operation. This means that we are able to use iodine as a propellant, without coping with undesired challenges like clogging or material incompatibilities. Iodine could replace the noble gas xenon that is used today in space to control probes and satellites with an ion-drive, thus reducing the overall operational costs and being a more efficient and competitive alternative in terms of fuel cost, mass, and volume savings on board.
The thruster, cathode, iodine feeding, and PPU breadboard that were used for our test, have withstood the operative conditions without any damages while for the next days an intermediate characterization and inspection is planned, prior moving on towards the 3000 h firing time target.
The iFACT team now is performing a 3000h lifetime test of the 300W thruster fed by iodine to discover the subsystem's lifetime expectancy and iodine compatibility. The test is taking place in a brand-new facility provided by AEROSPAZIO in Italy. The thruster subsystem has been exclusively developed by AIRBUS and the iFACT team and funded by the European Commission, internal R&T, and DLR.